Dong Family 2nd Birthday Celebration
Keeping up with the Dongs
We keep in touch with the litter that Zappa (originally Paldong) came from, and have taken to referring to each other as the "Dong Fam". This is because they were each originally named after their number in the litter, for example Paldong means "eighth boy".
The Dongs were born 2 years ago in South Korea and have made the journey to Toronto where they're now reunited as a family! They were rescued through Free Korean Dogs, an organization which strives to end the dog meat trade in Korea. We're so lucky to have the entire litter all in one place where we can meetup and share news, questions or potential health concerns.
It seems especially helpful for the Dongs, considering how they are naturally quite nervous (at least, Zappa is). It took them almost a year to become comfortable on walks, engaging with other dogs, and hearing scary sounds like airplanes and garbage trucks. They're slowly improving every day, but it always helps to have some familiar dogs they can spend time with and feel comfortable around.
A break from the noise
Zappa doesn't often sniff or engage with other dogs on walks.
When Zappa is downtown Toronto, he's usually nervous and noise-reactive to all the hustle and bustle- which is to be expected, considering the city can be sensory overload for anybody! Swarming crowds and fast-moving people, congested roads and sidewalks, the constant wailing of sirens, the chopping sound of helicopters dropping off patients at St. Michaels hospital. I can only imagine what it was like for Zappa to arrive in this strange new, loud, scary place.
Although even in the various suburbs of Southern Ontario, Zappa still tends to be nervous, hyper-alert, and cautious. He prefers to play indoors, or in a controlled space where he feels safe. He is clearly a very intelligent boy, and just needs patience, kindness and consistency in his training.
This is why it can be a breath of fresh air to visit a dog park with Zappa's siblings! To see them all running around, carefree and playful, makes us so happy.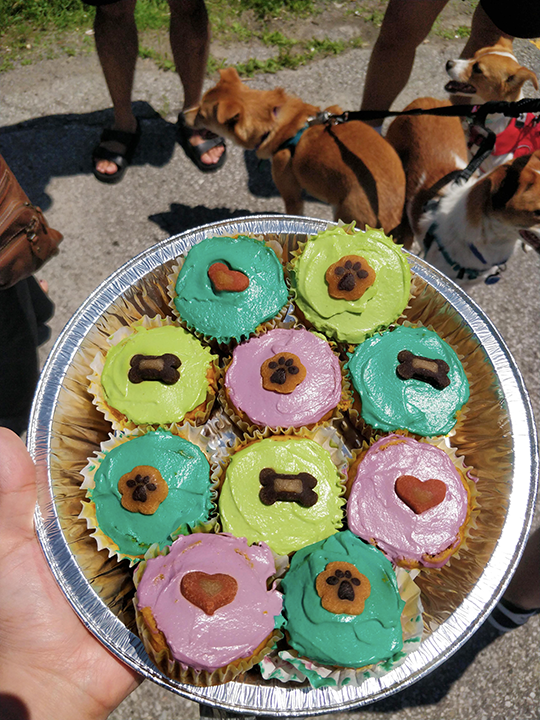 Janet made these beautiful pupcakes!
Aero, Elsie and now Nova's mom Janet baked these special cakes for the Dongs 2nd birthday celebration.
What spoiled pups! 🥰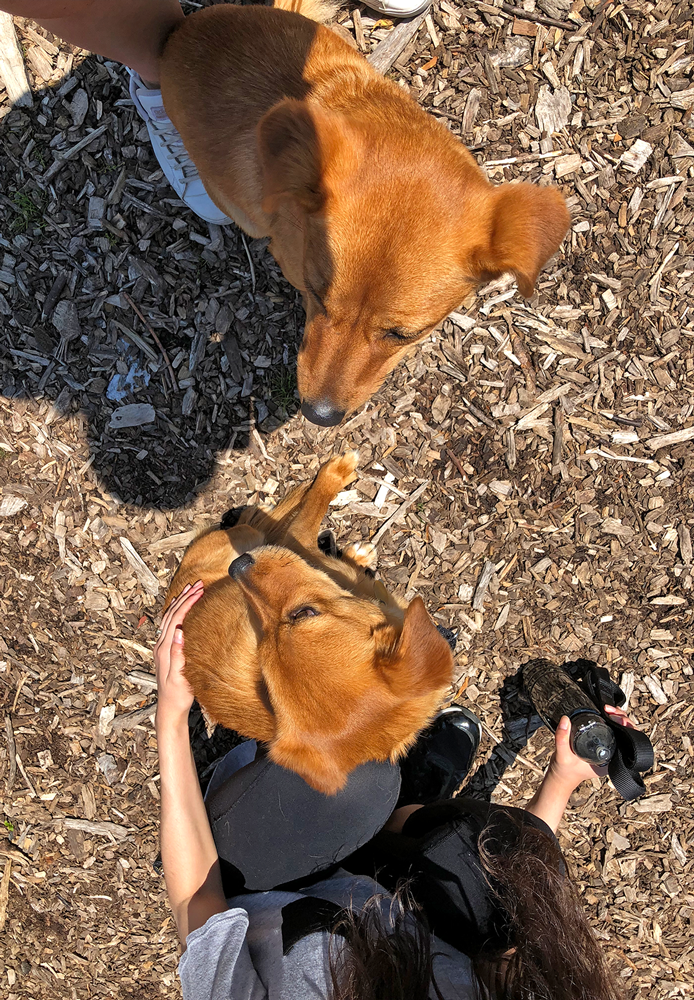 Zappa & Ollie are total twins
Lookit these two. It's really too much sometimes!
We were having a hard time keeping track of who was who. 😅 Thankfully we brought home the right one!
Family dogs, or dog families?
I'm curious to know if this is a more common phenomenon than we think! Do any of you have dogs that keep in touch with their littermates, or do your dogs not know who their siblings are? I'd love to hear from you in the comments below.