How to Photograph Your Pet for a Painting
Traditionally portrait paintings would be done on canvas with a brush, and your pet would need to sit in an artist's studio for hours, possibly for multiple sessions spanning days or weeks (or even months in some cases).
With digital pet portraits, art can be created in a much shorter time frame with less hassle for both artist and client! It's so much more convenient now for you to snap a couple pictures of your pet and email them to get the process started.
Do's and Don'ts
That said, the drawback to digital portraits is that the process places much more emphasis on the quality of the reference photos provided. Many portrait artists agree, the quality of the original photos greatly determines the quality of the final result. In short: if the photo is bad in quality or hard to decipher, the final painted result will likely turn out the same.
That's why it's so important know how to take the BEST possible photos of your pets, using tools you likely already have! You don't need a DSLR camera or fancy lighting equipment (although these things are helpful), you can achieve great results simply using your smartphone and taking your pet outside on a slightly overcast day.
Photograph your pet in the best possible way- they'll thank you for it.
Here's a list of do's and don'ts to keep in mind when photographing your furry friend!
Image Quality
Having high quality images of your pet is so important to painting them accurately! Images are considered high quality if the subject is framed well and in focus, and if the image file size is larger than 1600px on any side.
To get started on a painting, I request at least 3 photos of your pet from various angles/distances, but usually will paint from one main reference.
Images that are low quality are hard to create accurate portraits from. Considering this is my first time seeing your pet and I have no other context into what they look like, this can make it challenging and sometimes impossible to create a realistic depiction of your pet.
To represent your pet in the best possible way, and minimize any guesswork that could lead to inaccuracies, I only accept commissions from clients who provide high quality images that meet the requirements outlined here.
What makes a digital image "high quality" is a large file size that contains plenty of details. For example, images sized 1600 pixels and above tend to be crisp.
However, just because an image is a large file doesn't mean it will be easy to draw from. Many factors need to be considered from a creative perspective, including: framing the shot, natural lighting, being a good distance away from your pet, crouched down on their level, standing at the right angle (roughly 3/4), the pet in focus and the center of attention.
Lighting Conditions
Be sure to photograph your pet in a space that has plenty of natural sunlight. If you can, try to take a picture of your pet near an open window early in the day. You could also bring them outside if it's overcast but slightly sunny. Try not to photograph them at 12pm or on extremely sunny days, as these lighting conditions would cast very dramatic shadows on your pet and would not be ideal for painting a flattering portrait.
NEVER take photos of your pet with flash on (for the purposes of a portrait)! It will make your pet look washed out, overexposed, and even give them the dreaded red-eye effect.
Images with the best lighting usually have a nice gradient of tonal values, from super-bright highlights, to midtones, to dark shadows. If an image is too bright or too dark, it can be difficult to paint from.
❌ Dark/unnatural Lighting ❌
This photo has a limited range of tonal values, being both very bright and dark, with no in between. The dogs eyes are also washed out and reflecting the bright light from the camera- flash may even be turned on as well, so you can see the effect that has on the final photo.
This photo has a nice range of tonal values, from brightest brights to darkest darks. Even though the eyes and mouth may be in shadow, their details are still readable and reveal the personality of the pet.
Framing the Shot
Although framing is something I adjust myself during the photo mockup phase, it's important to start with a good base image where not much of your furry friend is cut off or out of focus. Make sure important areas like the face (including features such as the eyes, ears and nose) are centered and not trailing outside the image.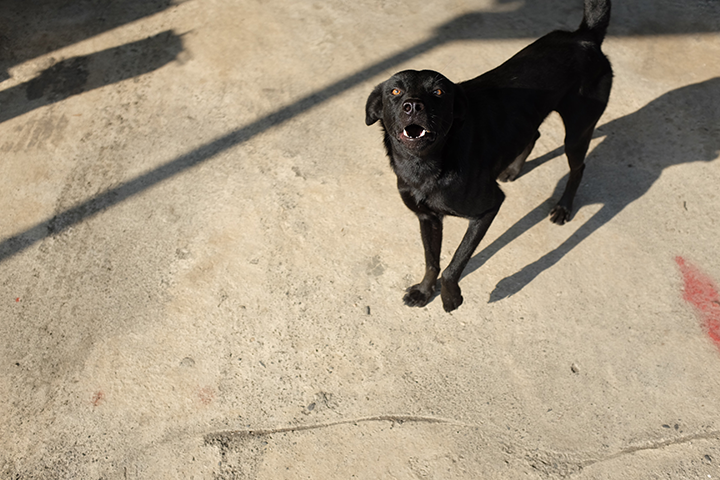 This pup has his tail almost completely cut off by the edge of the frame. Not only this, he's so far away from the camera, it's hard to discern any details about him. The image is also taken at an angle, looking down on the dog, which makes their face look distorted. It's just not a good look, for such a cute pup!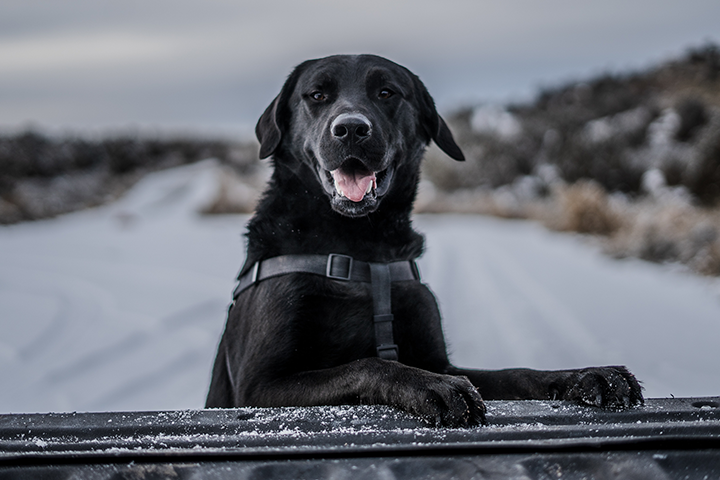 You can feel the difference almost immediately! This good boy is cropped but in ways that make sense given this is a bust-up portrait. They're facing us almost straight on, but the camera is angled at their level, making them feel more friendly and better representing their true selves.
Photographing Multiple Pets
It is always a challenge wrangling multiple pets to sit still for a photo! Try taking the photo while they are all on-leash, making it easier to direct them and keep them within your reach. Make sure you've got some high-value treats with you, such as real chicken or liver, and they're likely to be more attentive to you.
If this isn't possible, for whatever reason, there's always the option of taking separate pictures of all your pets and combining them afterwards! I charge an additional small fee to edit the images together myself. If you are going this route, make sure that all pets are set within the same perspective and that photos are taken from the same relative angle/distance. It can be difficult to edit the images together in a way that feels realistic, if one dog has been photographed from a top-down angle, meanwhile the other dog was photographed at an upwards angle. It would lack consistency and look fake, so this is something to keep in mind.
Encourage Your Pet to be Less Camera Shy
If you find you're having a hard time capturing a good image of your pet because they just don't feel comfortable enough to sit still, here are some tips that could help your pet feel less nervous around cameras or phones.
Bring them to the space where you'd like to photograph them, and sit with them and let them examine their surroundings until they feel more comfortable in their environment.

Feed them their favourite treats so they associate your camera/phone with good vibes!

Try on multiple occasions in short-bursts. As your pet warms up to the experience, they will get used to it and feel less nervous. Don't try to force your pet to sit through a four-hour long photoshoot when they're just trying to get oriented!
Let's Recap!
You've learned the basics of how to take portrait-ready photos of your pet! Here's a brief recap of what we covered:
The artwork will only be as detailed/aesthetically pleasing as the reference images provided.

Send ONE (or more) high quality images (1600px or larger) of your pet. They should be in-focus, meaning your pet is not blurry or pixelated.

Photos are well lit with plenty of natural light (no flash!)

Your pet is framed nicely near the middle of the photo, without important areas of their head or face cut-off by the edge of the frame.

If you're photographing multiple pets in one scene, be sure to keep them all on-leash and bring lots of high-value treats! If you can't photograph them all together, you can send separate images of each pet and I can edit them all together for an additional fee.
If you have any questions about photographing your pet that I have not addressed here, you can ask me directly at: hello@joscelyn.art