How to Print Your Portrait Online
You've got the final artwork, or photograph, in all its digital glory! Now to get it out of your computer and up onto the walls.
What does that process look like? How much does it cost? Where can it be done? These were all questions that went through my mind the first time I started ordering prints of digital art, and it intimidated me in the beginning. I'm here to simplify that process for you, and tell you only what you need to know to get your finished art printed and framed!
Where to Print Art Online
There's a number of different companies that print art! Here's a high-level comparison chart that shows some of the most popular online print services and their offerings.
| Printer | Location | Price | Sizes | Print Type | Frames |
| --- | --- | --- | --- | --- | --- |
| Staples | US + Canada | $ | 11 x 14" | Canvas | Black |
| Walmart | US + Canada | $ | 11 x 14" | Fine Art Print, Canvas | Black, White, Wood |
| VistaPrint | US + Canada | $ | 8 x 12" | Canvas | Mounted, Premium |
| FedEx Kinkos | US + Canada | $ | 11 x 11" | Canvas | N/A |
| Snapfish | US | $ - $$ | 11 x 14" | Fine Art Print, Canvas | Black, Chocolate, Oak |
| Henry's Photo Centre | Canada | $ - $$ | 11 x 14" | Fine Art Print, Canvas | Black |
| Blacks Gallery | Canada | $$ - $$$ | 11 x 14" | Fine Art Print, Canvas | 15 different choices! |
| CanvasPop | US + Canada | $$ - $$$ | 11 x 14" | Fine Art Print, Canvas | Black, White, Espresso |
Understanding Your Print Needs
Depending on your budget, time frame, and the target gift recipient and their likes/interests, your print needs will be different from the next person.
I personally have used Staples and CanvasPop, and a number of my Canadian clients have really enjoyed using Blacks Gallery. I use Moo for all of my other print needs, such as branding and marketing collateral, but Staples is reliable when you're in a pinch and need art fast- and you're not too particular about the quality. I say this because colours don't always turn out true to what they look like on-screen, once they're printed on paper. I'm not sure if it's the inks they use, but their images can turn out slightly darker and more saturated than expected.
CanvasPop and Blacks Gallery are pricier, but MUCH higher quality than Staples and Walmart. And to be honest, it doesn't take a trained eye to spot the difference. If you're a stickler for quality, you may want to outsource your printing and framing needs. It's also more convenient to get prints that are framed and ready to hang, shipped to your door or an easy pickup location!
Print Order Process
Most online print services generally work the same way, asking you to follow a series of steps, like so:
Choose your print type (i.e. Canvas, Fine Art Print)

Choose your print size (i.e. 11 x 14 inches)

Choose the print orientation (i.e. horizontal or vertical)

Upload your image (click the button to upload your .PNG or .JPG file)

Preview/digital proof to see what the cropping will look like

Optional: Choose frame and/or mat (a mat is a small border of empty space around your image that separates the painting from the frame)

Checkout process: Enter payment and shipping information
Put your feet up and wait for your package to arrive! Some pricier print services come ready to hang- yay! Some also allow for same-day pickup or shipping, so dig into each service for yourself to see which is best for your needs.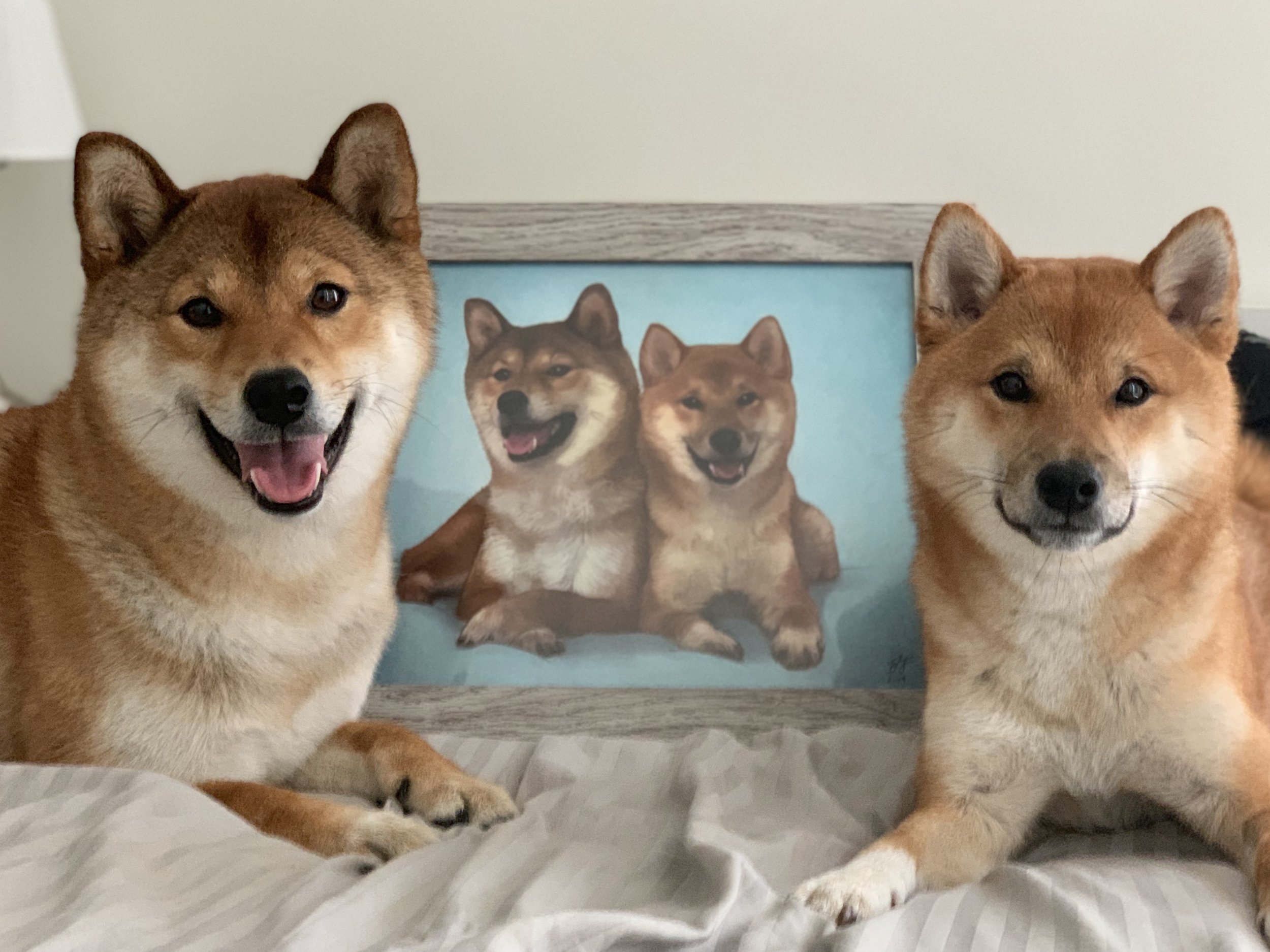 When choosing your print type, you usually only have two options online: canvas or fine art paper prints. Some companies offer unique services like printing on acrylic, metal, wood or fabric- however I'm covering only the basics here. Feel free to explore all the different options out there!
One of the most common questions I'm asked is what the difference is between canvas and fine art prints, and how the final results differ, and which one suits digital portraits better. Both look great, it really comes down to personal preference and where the end result will be displayed.
Canvas prints look the most like an original painting, as they're usually stretched or mounted "gallery style", meaning the canvas wraps around a wooden bar. Canvas is what most traditional acrylic and oil paintings are painted on, so this allows the digital art to have that canvas texture when printed. Canvas looks beautiful with chunky strokes and textured artwork, like my portraits.
Some printing services (like CanvasPop) offer canvases that are ready-to-hang. They may be mounted with wire and d-rings for easy hanging, right out of the box upon delivery. Can purchase a canvas with a frame, but the benefit of canvases is that they can be hung frame-less.
The benefit with fine art paper is that there's much more variety in paper types and weights. This allows for more customization and a more unique look with each portrait, including the added customization with having a frame.
There are many different paper types: some heavier, some lighter, some flimsier and some stronger than others.
Most online printers offer 2 or 3 different options:
Matte (not reflective, 'dull' in a clean way)

Glossy (highly reflective and shiny, sometimes causes glare but enriches dark colours)

Lustre (a combination of both matte and gloss, sometimes with a pearlescent sheen for a nice subtle texture on top)

Some offer fine art papers that have the same quality and texture as watercolour paper.
The other bonus is that fine art paper is usually cheaper than canvas, not including the frame which is an added expense. But in terms of just the print itself, fine art paper can be less expensive.
The default size for my portraits is 11 x 14 inches. If you'd like to order a custom size, please let me know in your quote request email.
The reason I offer 11 x 14" is because it's the most standard size, offered almost universally by printers in North America. It's very easy to find frames of all different colours and materials in that size, meaning it's the most accessible for the widest audience.
11 x 14" is a nice medium size, as it is not too small (8 x 10" or 8.5 x 11" is letter size) or too large (16 x 20" and above). If you add a frame and a mat, the portrait size can increase by a few inches, and can eventually take up around 22" or more on the wall.
This one can be pretty self explanatory! Depending on your portrait painting, your image will need to be printed in either Landscape or Portrait orientation.
Landscape: Horizontal orientation (wider than they are tall)

Portrait: Vertical orientation (taller than they are wide, i.e. the image above)
Now to upload your image! Every printer needs a copy of your print-ready file to print your art, so make sure you upload your digital painting to their system.
I'm in no way sponsored by CanvasPop, but this is what most online print services look like! You will usually see a button to "Upload your image" or "Select your image".
To print your portrait, this is where you would select the high-resolution .PNG file (or .JPG file, depending what printing service you use).
Review Your Digital Proof
After setting up your print order, and choosing your print type, size, orientation and uploading your image, some printers will give you the option to review a "digital proof".
The purpose of a digital proof is to help you spot errors early on in the process, preventing them from ending up in the final printed result. Not every printer gives this option, and it's not 100% necessary as some more old school printers will contact you if they have any issues with the file you've submitted.
If you are able to see a digital proof, check for these signs that the print is ready to go:
Nothing important is being cut off around the edges, such as focal points of a dog's face or ears

The artist signature is not cropped or cut off around the edges

The image is centered and straight in the mockup

The image is not squished or stretched in any way (which could indicate the selected print size doesn't match up with the image file size)
Proofs are great because they're a quick way to prevent print errors (and potentially expensive re-prints) from happening later on.
Choosing Your Frame & Mat
Framing and mat selection is such a dense topic of its own, I will be creating a separate blog post just for that topic eventually. In the meantime, here's what you need to know to get your art up on the wall!
Frames (and mats) are great because they help preserve your printed image, by keeping dirt, air and moisture away from your print. Thankfully the portrait IS a print though, so it's not as stressful as maintaining an original painting- if anything happens to the image, you can always reprint it. Easy!
Frames are not only protective, they can also be aesthetic! Consider a frame material (wood, metal, reflective mirror, plastic, etc) and mat colour that will compliment your artwork, and also the interior design of your home where it will be hung up.
A "mat" is the border of space that separates the frame from the image. Not every framed painting needs this, but it can help to add space around your image which makes it more aesthetically pleasing. It allows the art to really stand out, especially against a high contrast mat like white or black. Mats do come in many different colours however, and sometimes clients choose a mat that matches the painting's predominant colours (i.e. if soft pink is a common colour used in the painting, the mat could also be soft pink or a colour that compliments that).
Experiment and explore all the different options, and speak with your local framing experts if you have any specific questions about selecting the perfect frame and/or mat for your portrait!
Reiterate what a mat is, the benefits of having a mat + frame, how they help for preservation purposes to keep dirt and air out. Thankfully it's a print, so it's not as stressful as maintaining an original painting- you can just reprint it, if anything ever happens to it!
It's normal through the printing process for colours to change. It's very difficult and almost impossible to 100% match the colours of printed ink to those on screens, although the Pantone system has been invented to make this easier. Colours should not change too drastically- if they do or you notice a strange tint to the image, speak with your printer about getting a reprint.

It's also normal for images to turn out slightly darker once they're printed. To compensate for this, I try to make my images just a tad bit lighter than the should be, so that blacks are not PURE blacks (hex value #000000) so the colours translate better onto paper.

The printing process can take a number of weeks, depending how you've customized your order. The fastest way is usually to order a print and pick it up at a print shop location, otherwise it could take anywhere from 4 days to 15+ days to receive your prints if they're being framed and shipped to your door. Printing on specialty items like pillows and fabrics can take up to a month, as you need to factor in processing times for the print shop to produce your item.
I hope this helps you print your next portrait! Let me know in a message or an email if you have any questions that aren't addressed here.